Tidbits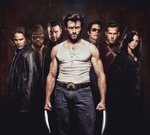 Today Wolverine comes out. Theoretically attached to this film will be a trailer for Transformers 2. If you can't wait, do you want to see the trailer? Head on over to Yahoo to see it and the HD versions. I gotta say, it does look pretty badass. The saturation is turned up to 11, but.. meh, it's on the web. I'm curious as to see what it'll look like in the theatres. Most, but not all, of the work in the trailer was ILM. But back to Wolverine.. My old crewmates at Tippett worked on this film, and I can't wait to see it! I hope it's good! Most of my movie going happens on the weekend, specifically, Sunday morning. It's the cheapest then, and there are virtually no crowds, even on a popular movie weekend!



Late last week I was quickly interviewed by my alma mater up in Vancouver, VFS. It was not about my career, but more about the service we're providing the visual effects, gaming, and creative arts communities with VFXWages. Head on over to the VFS Blog and check it out! Speaking of VFXWages, we broke 3000 users earlier in the week and are slowly creeping upwards. I'm in discussion with AWN and CGSociety to get some advertising done. We've got a little more UI stuff to work on, and once the ads go up, we should be rocking.
This May is going to be an action packed one! Every weekend is going to be busy, and I've got to catch up on my movie going. There's Wolverine this weekend, Star Trek next. Angels & Demons (I hope that doesn't suck) following that and then Terminator:Salvation. Not only those, but I've gotta catch up on movies from earlier in the year! Crank 2, Coraline, Fast and Furious, Knowing, Monsters vs Aliens, Gran Torino, man. There are a lot. This year three of the films I've worked on will be coming out summer! One in May (Star Trek), one in June (Transformers 2), and one in August (GI Joe). I think that might be it for this year. There might be another one in the fall or winter, but I'm fairly sure my next big show will be for next summer. That's sort of the rhyme and reason of post facilities. Work through the fall and winter for the big summer blockbusters.