Sunday, bloody Sunday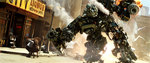 Well, we're getting down to the wire, and here I am, waiting for some renders to.....render, and doing some comp love on some giant robots. This is actually the first full seven day work week that I've done on this show. I'm trying to keep it regular and hit my deadlines when I can during the week, but things always change here and there.



My brother has been pretty quiet on his end, dealing with the running of a gaming company, managing his workers, and trying to get his game out there! Yes, he's been working an ungodly amount of hours. If you're interested, head on over to CoinApp to see what sort of progress he's been making on their inaugural game, Max Blastronaut. Doing me proud! It's all going to pay off in the end. Well, if he can ever get off that XBox when we play COD4 late at night. Your Stopping Power is no match to my UAV Jammer!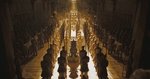 I'm in the process of revamping Digital Gypsy (yet again!). It's only been a year and change since my last update. What I will probably end up doing is to keep the blog up here, at /vfxlog/, but at /, it'll be a flash site, much similar to what Ari did with his. Of course, that will have to wait until the show is over, and I get all my other deadlines completed. It'll also allow me to quickly redo my gallery section here, since it hasn't been updated in about two years. I'm writing up a new Case Study for VFXTalk in my other free time, with HD pictures and video! It's been a while since my last one, and there's a lot of shows that I've done in the interim, but we'll be starting off with that one first.