Done?
Well, here we are.. Or here I am. Or here you are, reading this wonderful prose. I've just finished up a BUNCH of projects here at Digital Domain. Some of them I had mentioned in a previous post, but just to reiterate, I finished leading a compositing team on the Dreamworks picture, Real Steel, due out in theatres in October. Sure, it's a long time away, but the work looks fantastic. I'm eagerly awaiting another trailer!
On the show front, I've done several tests and spec work for a bunch of shows that we're hoping to get. I can't name any of them unfortunately, but they're going to be big! Like most studios, we continually bid on work that is roughly a year to two years away, sometimes more, but that all depends on whether the bigger studios want to fund those projects. I've also just completed a commercial here, my first one at Digital Domain. I did two Chevy commercials up at Tippett. This one here was a little, different, shall we say. It was fun, nonetheless!
On the business front, we're continuing to improve VFXWages under the hood, and improve some back-end work. We've transitioned to new servers, which will make our service to you much better. If you've been following my Twitter, I am also experimenting with Android apps, and deciding on how to package the information from the website and give it to you in the palm of your hand. We are adjusting the way we have users enter wages, as well as display and access our graphs. There's still a market out there, and we're hoping to get there very soon.
Some of you may remember the time I started on a metal Rubiks Cube. I set up a small website to share with the world, unrelated to VFX. You can check it out here at
SkeletonCube.com
! I put it up on Tumblr, so if you an account, you can follow that to see the progress. I also set up a twitter account called, surprise,
skeletencube
, but there's less activity there. I try to update that first with a quick picture from the phone, and when I have time, I'll put it up on Tumblr. Here's a quick picture of one of the recently complete pieces. Warning, these pictures are pretty big if you click on them.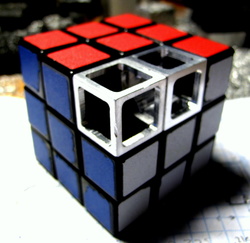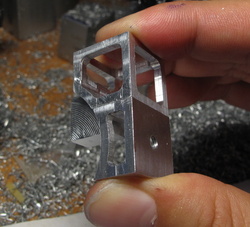 I only need to complete another 23 pieces for this thing to be done! My metalworking collection is slowly growing. I almost spend more time on my mill than I do on my home computer! I'm trying to hit all avenues at once, and it's pretty tough to manage my time. I need my own personal assistant!