Tech Fixes and Little Parts
Hello dear readers, and welcome to another interesting entry here at DigitalGypsy. It's been about a month since I've last posted, and there have been a lot of exciting developments here in visual effects, among other things! We've successfully wrapped the A-Team, which came out yesterday! Has anyone seen it yet? I'm looking forward to it. I'm taking a little vacation break, which is probably why there hasn't been a post in a little while. I'm busy coming up with other crazy ideas! Here are a couple pictures of the progress I've been making with my little engine.
The item on the left is the exhaust for the engine. It's 0.34" in length. For my metric readers, about 8.6mm. The brass rod guide support and steel bushings are the right. The bushings are 0.080" (~2mm). The diameter of the US dime pictured is 0.7" (~18mm). Below is a finished nut and bolt system, and myself at work!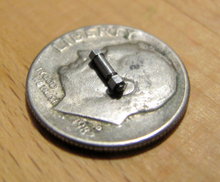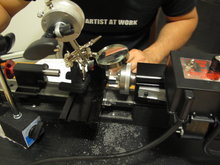 Recently I acquired a CNC rotary indexer, which allows me to cut wheels, gears, spokes, flywheels, and anything else that requires rotations around a fixed point. Here's a video I shot of it in action.