More than halfway.
It is now August, the eighth month of the year, and it seems like 2009 is just flying by! Time just gets shorter and shorter, and I feel that the work I have left to do just keeps growing. Two weekends ago I got together with Saeed, who some of you may remember from 2007, when we presented the VFXTalk Users Group at the Santa Monica library. We caught up as much as we could, talked about the work that lay before us, and hoped that the recession would pass us by quickly! With several of our coworkers out of commission and looking for work, it's a tough time, as evident by my six weeks off as well. Last week I got a chance to sit down with Donald, a vfxer I met online (from VFXTalk and Twitter), who came out from Florida and Full Sail to come work on the West Coast at Luma Pictures. I gave him a quick tour of Digital Domain, and we headed out to lunch to talk shop, and just shoot the breeze. It's very interesting to see how people start their careers, what they look forward to doing, and how they plan on accomplishing the tasks that lay before them.
We saw a couple movies since I last wrote.. They include Coraline, which came out earlier this year, and the cast and crew screening of G.I. JOE. Coraline was visually amazing. It definitely felt like a Gaiman film, the tone was surreal, and I was a little put off by the button eyes, which freaked me out for a bit. I mean, look at this. Doesn't that scream crazy? Overall, I got used to it, and the animation was wonderful. The traditional stop motion was quite nice to see again. I'm eager to see a new Aardman film!
On Sunday we saw G.I. Joe on the Paramount lot, and I didn't have high hopes for this movie. I was expecting something crass, unexciting, and just very cheesy. It did not meet those expectations. It was actually pretty good. Dialog was solid, acting was decent, and most of the FX were great (well, yeah :)). The action sequences were pretty well done, and the sound design for a lot of what we did was excellent. The majority of our work was at the beginning of the movie, which I'll mention more of when the film actually comes out on Friday! I'm looking forward to it doing pretty well this weekend. There's really nothing else up against it. If it does well, this year will be a trifecta! Three movies I worked on this year with amazing box office returns! Star Trek (Latest gross: $379,661,846), Transformers 2 (Latest gross: $810,189,320), and GI Joe (we'll see!). If it does pretty well, expect to see a sequel! The studios that worked on it include Digital Domain, MPC, CIS Hollywood, Frantic Films, Framestore, and CIS Vancouver. Speaking of Vancouver, a former classmate from VFS was featured in Sundays LA Times for his upcoming film, District 9. Neill was also an artist in Vancouver, and we were nominated the same year for different shows that we had worked on in Vancouver. I am eager to see how the work from Vancouver looks in this film. You may remember Neill's short, Alive in Joburg, which was the basis for this new film.




Here he is, pictured below, standing next to me back in 2001. I'm behind the beautiful lady in blue, he's standing to my left, with the white tie.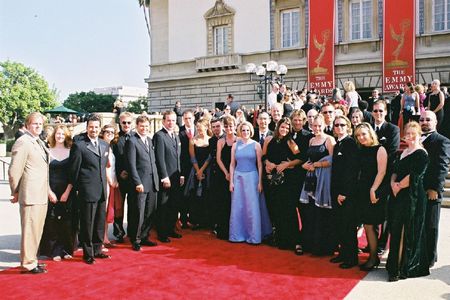 I sincerely hope that the work done for District 9 by The Embassy and Image Engine will continue to put Vancouver on the map as a place to accomplish significant VFX work. From the numerous Emmy nominations in VFX (and its first win in 2007 for Battlestar Galactica), Vancouver is creeping forward!
On the Industry Wages front, I am extremely close to finishing this primary proposal with numbers gleaned from the web and government documents. The Bureau of Labor Statistics is extremely helpful! Hopefully sometime this week I'll be able to send it for review by a SCORE counselor, and then hopefully ship it off early next week to VCs and angels. I'm anticipating that we receive funding for 2010, which will allow an accelerated rate of growth for the company and its sites!
This week is also Siggraph in New Orleans! Lots of great stuff there this year at the Nuke UG, which happened last night. FXGuide has a Day 1 review, check it out!