A Productive Week
Here we are yet again, at another payday. The visual effects work on the film I'm working on is coming along nicely! We've still got a lot to do, but the production on this show is going very well. Just regular hours at the moment, which is nice! No 12 hour days, yet. I'm sure that'll happen eventually. We'll see!
Last Sunday, we hit up the theater to see District 9. Let me tell you, it's my new favorite film, and I think one of the first I'll actually buy on BluRay. Great acting, great story, great vfx! I'm still thinking about bits and pieces of the story even now! It just keeps with you, and the character work and direction are top notch. Neill is one to watch out for in the future. I'm really glad he did this instead of Halo.
A couple weeks ago, on a social site I frequent called SE, there was a comment about a beatbox artist who had an embedded Youtube link. I had never really heard about this artist (like most), but the music on Youtube had be rocking out, the beats are sick! I listened to his other tracks. He's a new favorite of mine. Check out DubFX.

The passion and dedication that he puts into his vocal work is truly great. Be sure to listen to Flow, which has some great sax work. If you go to his website, dubfx.net, he has his full album available for streaming. I liked it so much, I ended up purchasing it, as well some other CDs that they've put out. Speaking of other independent musicians, I listen to aurgasm.us quite a bit to get a feel on new artists or ones I've never heard about.
I was introduced last weekend to a new arcade game,
Trials HD on XBLA
. It's a new time waster! But my oh my, it's so much fun.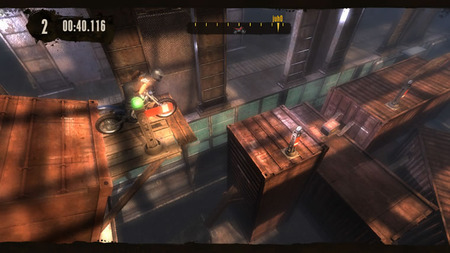 Early in the week I sat in on some reels for our first internship program at Digital Domain in a while. This is the first time that I really had a chance to see what kinds of reels a big studio receives. I was quite surprised that there weren't as many compositing reels. Most of the ones were generalist, which is a detriment to the applicant. While it's good to know a wide variety of skills, it's best to focus on one when submitting a reel to any large company. We'll be selecting several in the next week or so. Like I mentioned in my
recruitment post
four years ago, artists at larger companies are specialists in their chosen profession. There is seldom a jack-of-all-trades. I started posting a bunch of tips on twitter called #vfxprotip, so do a search for them, check it out, and subscribe. Right now I'll most likely post demo reel tips, but over time I'm sure other people will contribute and post greenscreen tips, keying tips, and the like in 140 characters or less.