Whoa.
Yes, it has been that long since I last posted.. Around two weeks now! There have been quite a few items on my plate in the last couple weeks. A new compositing intern at DD that I'm responsible for, new shots to finish for the show, and new deadlines for the business. Let's start backward, shall we?
Earlier this week there was a deadline to submit a new business pitch to a local group of investors. This pitch would give them a chance to see if we had enough data to actually present in person in Menlo Park at the end of October. This is a much larger chance for us, as it allows us to actually present to VCs and investors who are in our line of work, namely, information technology. I have a couple ideal VCs that could invest in the company, but again, we have to make sure that our business plan shows a substantial rate of return, and that we meet the right people in this network. It's a slow going process. A couple updates on VFXWages.com. We've roughly 5700 users, 460 VFX companies around the world, and almost 3000 professional wages. Remember that not all our users are professionals. A good thousand of them are students, who can't enter wages.
Like most shows, we have weekly deadlines to hit. Every week, the vfx supervisor, Kevin Mack, comes by the facility to take a look at shots, critique them, and basically tell us if we are or are not on the right track. This past week I have seen a huge number of shots on my plate, in addition to managing my time with the intern and other artists. Luckily, most of these shots are now off my plate, so I can spend some quality time on other items of interest!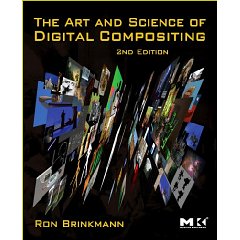 The day after Labor day, the 8th of September, a bunch of interns started at Digital Domain. One of them was for me! Tom started that day, doing some basic training with the training group, going over the general outline of what the future 11 weeks would hold for him. I have a basic curriculum set up, which will change depending on how quickly he can absorb the information. One of the vital items which every compositor should know, or at least start off with, is the book The Art & Science of Digital Compositing. This book is not just a reference book, but it the second edition is chockfull of tasty new information since the last book was published, with lots of improved technology, more case studies, and in general, it's a must buy for any aspiring compositor. As such, and since Tom didn't have the book, I lent him my own copy, and urged him to pick up the second edition, which he dutifully did. Over the past couple of weeks we've started on some roto and paint, got into our log/lin and film formats, started delving into Nuke 5.2, and even getting a hand on some production work for the film! A good start so far. There's definitely more to come.. Color correction and theory, keying, 3d tracking, environments, scripting, and more! And there's just nine weeks left. They will go very fast.



Sometime last week I picked up Batman:Arkham Asylum, based on a friends copy, and playing the demo for a little while. It's an excellent Batman game, which goes deep into the characters in his universe. I played it for a couple days and finished, and it is a worthly purchase if you're into the Batman universe. Even if you're not, it's a wicked game in its own right! The gameplay is very cool, with a ton of gadgets that I wish I could have in real life! Batarangs and Line Launchers and Explosive Gel. Good stuff.



I mentioned in my last post that my brothers company, CoinApp, had a game that was selected as a top six finalist in Microsofts DreamBuildPlay competition. At PAX there was a good turnout to play Max Blastronaut, and that same weekend, they announced the winners! Max Blastronaut came in second place, out of an original 300+ games submitted! Congratulations bro! Along with the win, they receive a monetary prize, as well as tons of press, and hopefully a chance to be on Xbox Live. Time will tell, and they're finishing the game now on a more relaxed pace.