eee!
As a treat for all my hard work at Siggraph (ha!), I decided to splurge a little.. So I picked up an eeeBox yesterday, which came today in the mail. I picked the jet black one, and it's pretty darn sweet. While it is an XP Home box, I'm sure there'll be an Ubuntu distribution for it sometime in the future! There's also a wicked ExpressGate (linux) boot, it comes up pretty much immediately on turning on the box, which allows you to use Skype, surf the internet, browse photos, and chat.
It's easy to get set up, just plug in all the bits, and away you go! It even comes with a USB keyboard and mouse. No network cable included, but it's got 802.11b and n! It also has a 10/100base-T port (can't tell if it's GigE). The hard drive comes split between two partitions; when you check Windows Explorer, the C: drive is 39.9GB (8 used / 32 free) and a D: drive (31.3GB free). I quickly installed Quicktime 7.5, Firefox, and Opera, and I think I'm done for now (I might fool around with flock), but will continue to play with it as time goes on. It does only have 1GB of RAM, but I think I'll pick up another 1GB SO-DIMM and just toss it in, especially for XP. So far it'll play 720p QT movs. I haven't had a chance to toss any 1080p footage its way, but the monitor that I'm using for it is only 1280x1024, so it would have to rescale the footage down.
I'll probably toss some Python tools on it, as I'm starting to learn Python, all over again. Especially now that Nuke 5 can utilize python, I think it would be a smart move. I can also use Python to generate web pages, so I will use the eeeBox as a web development machine too. The django framework looks pretty promising.
One thing that sucks so far is that the VESA mount to attach it to an LCD panel only works if your LCD stand does not block the VESA attachments! Case in point, check the image below. Check your LCD panel, and tell me if its like the image below, or if the stand mounts and covers the VESA area. Seems like slight oversight there. It would have been nice to invert the bracket so you could attach the box over the existing mount.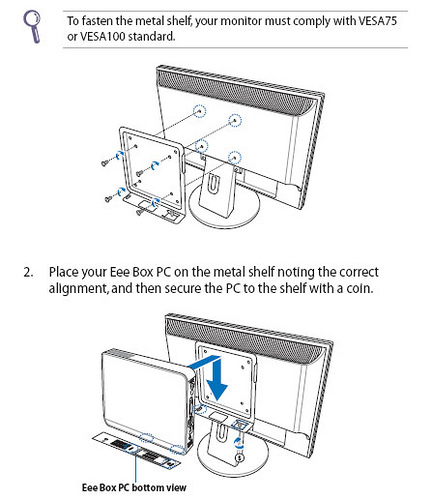 Looks like I'll have to rig something up in the meantime!