A full weekend.
My goodness, it's Monday again.. How time flies. The weekend flew by quite quickly. Saturday was the VES Group and one-on-one review sessions, which spanned six hours starting at 10am over at Image Metrics in Santa Monica. I had personally never heard of Image Metrics, but the COO was there in the morning to give a brief lecture and demonstration of the techniques his company does with facial motion capture, complete with examples. It was definitely an inspiring sight. They also work closely with other LA visual effects companies as well as with their head office in London in creating emotional computer characters, be it realistic or caricature.

After the hour lecture and discussion, we broke into groups, with we mentors in the one on one group. There were five of us, for about 30 students. 10 each from Gnomon, USC, and OTIS. The students had a chance to sit down with use for 15 minutes each, almost too short a time, and discuss their career goals, show us their reels and CVs, and ask any questions they might have of us. I talked to about 16 students, I think, and unfortunately, most of the names escape me, but the faces and work stick. Early next year these students will have a chance to be mentored by, at the moment, three of us (Alan and Paolo are the other two). If you're a VES member, I urge you to sign up to be a mentor to a student! After all, at one time you knew nothing either. From what our VES contact mentioned, there are 1500 VES members around the world at the moment, and about 500 in the LA area.
I talked with some up and coming talent reviewing the reels, and definitely all of them had potential. Like all students, the reels do need work, but it's understandable. After all, my first reel wasn't the most breathtaking. But it did show potential to my first employer, and things accelerated from there.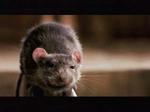 Sunday was another VES filled day. We attended the screening for Charlotte's Web over at Paramount Studios in Hollywood. The VFX supervisors were there as well for the Q&A that followed, since the official cast and crew screening was last Friday. I enjoyed the film, even though it was more of a family affair. The work changed only a little from the last time I saw the footage from half a year ago up at Tippett, mostly some small color timing tweaks, and the addition of Charlotte into our Templeton shots. I didn't really like the design of the spider, but Rising Sun did what they could do with the direction they were given. The close ups were pretty good, and the spider hair and silk was well done. There were numerous depth of field issues, but I can see how it was tough to focus on a very narrow window, yet try to keep the creatures in focus.. Many times it had to be faked. Templeton and the crows Elwyn and Brooks were well done (Tippett's work on the film). After seeing the shots again after eight months, they were pretty good. It was amazingly tough to pull off some of the depth of field and integration shots with Templeton and his surrounding environment, but I think you'll be pleasantly surprised. Rhythm & Hues did some great work, as usual, with the face replacements of the animals. I'd recommend it as a family film.