Real Steel
Oh my goodness.. It's been about two months or so since I last did a big update, and several things have been happening on my front in the digital world.. After the wrap of Real Steel, which officially was near the beginning of summer, we had been working on some marketing stills and sequences for the show which you may have seen here and there. Finally it's out! I've been working on the film since July 2010, so this has been a pretty long road to finally see this film in the theaters. We had a cast and crew screening last week, and it was good! Mind you, I'm a little biased and jaded since I worked on it, but if you have a son in the right age range, they will love this film, and they'll want a robot of their own.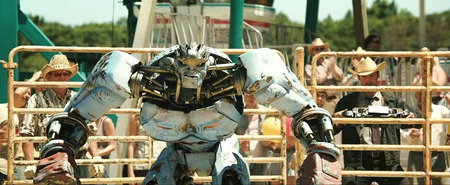 Since the movie is now out, I can kind of talk about the sequences I was responsible for! Some of you may have read in the past that this was my first official lead compositing position at Digital Domain. I was a comp lead with three other compers, with two comp supervisors over us. I had a number of compositors under me, close to ten, working for the sequences I was in charge with, and we had a blast, the sequences came together pretty flawlessly. The big set sequences I was primarily responsible for include; the bull and Ambush fight in the beginning, the Metal Valley junk scrap sequence, the Metro fight in the zoo, and pick up shots of Atom as he works his way through various robots at underground venues. Overall, I had to manage about 130-140 shots. In the near future, I'm sure you'll hear about some of the techniques we used to create the visual effects on the film.

One of the amazing parts of the film, after seeing it twice, is that our hero robot, Atom, is indistinguishable from the practical robot they built for the film.. After working with Atom and Ambush on certain sequences, and then seeing them in the final product, it was just way cool to see how animatronics and visual effects just blended together, and you almost forget that what you see before you is all built in the machine. Pretty much all the robots are hard to tell from their practical counterparts in the ring, and I'm curious to see if any review site out there can distinguish between the two!