Hiking
Over the Fourth of July weekend here in the states, many people gorge themselves on all things American, celebrating our independence. For me, I spent it outside on the trail, and on July 5th, no less. If you are wondering, I can't recall what I did on Sunday. But here's a video clip from Monday.
This footage was taken on the way back down from the peak. The peak in question? Mt. Baldy, here in the San Gabriel Mountains, just north of Los Angeles. Here's a panorama of the Devil's Backbone trail, which I took on the descent. Click on it to see the BIG picture.

But what about the ascent you ask? Was I so preoccupied with taking pictures and video of the descent that I forgot the peak? Ooh no.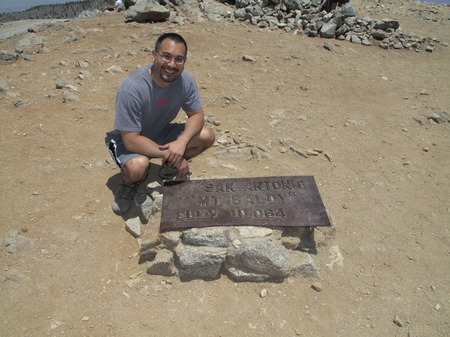 There I am, at the top! It took me about four hours to ascend the 3.3 mile (5.3km) trail to the top of the mountain which peaked at 10,064 ft(3068m). We started at around 6000 ft (1829m). It was a definite butt kicker, but I am surprisingly jovial in that above picture. I'm not too sure how happy I will be this coming weekend, as I'll be attempting the 22 mile (35.4km) round-trip to the top of Mt. Whitney, the highest point in the contiguous US. That peaks at almost 14,500 feet (4420m)!