A late 90s trip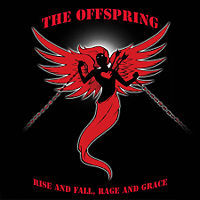 Seriously. I ended up buying the Offspring's Americana (mostly for The Kids Aren't Alright) and their latest album, Rise and Fall, Rage and Grace from Amazon the other day. I think the only album from them I don't have is Splinter. Anyway, after listening to Rise and Fall last night, I've gotta say that it's an excellent CD. It's a great turn back to their roots, with some excellent tunes. There's nothing like immersing yourself in a pair of headphones and blocking all the crap that's around you, listening to some blasting punk rock and yelling. Sweet.

Inspirational? You betcha. Check this out. The writers of most of the songs on the new album are by Dexter Holland and Kevin Wasserman. Dexter is the lead singer as well.
Holland (born December 29, 1965) was the class valedictorian at Pacifica High School in Garden Grove, California and was a Ph.D. candidate in Molecular Biology from the University of Southern California; however, he abandoned his Ph.D. in favor of focusing on The Offspring. He has a Bachelor's degree in Biology and a Master's degree in Molecular Biology, both from the University of Southern California.

Holland is also a licensed Airline Transport Pilot and has made a solo trip around the world in 10 days.
So far my favorite track is "You're gonna go far, kid" followed by "Nothingtown" and then "Stuff is Messed Up". However, pretty much every track on the album is gold. Another artist I got earlier in the year was Talib Kweli's Eardrum. That was a great CD, but I prefer his earlier work on The Beautiful Struggle better.
In other fancy news, a coworker and I have embarked on an epic project. Siggraph LA 2008 is prolly too early to release it, but possibly Siggraph Asia 2008 in December in Singapore.Time will tell if we can get the underlying architecture to work well and seamlessly. We finally got releases from Digital Domain to actually work on it outside of work, so that's the first step. It's very similar to the disclosure I had to provide with my product patent when I started at DD. As we are both on the Mummy, we're waiting until the end of this crazy show to actually start work on it. I've had the idea for it for a long time now, over a year, and I've got documents and business plans for it, and a nice five year plus plan for a sequence of events, I just needed someone that had the same drive and motivation as I did.
You may have noticed that almost every entry on the main page has zero views, and that's basically because something broke in February, and I haven't had time to troubleshoot. Somehow I think I may have gotten it to work, so we'll be seeing Views greater than zero on these entries again.