The coming weeks.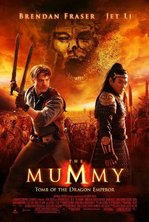 Ah.. A nice relaxing week and weekend, recovering from the craziness that was The Mummy. It looks like it's really over, and we'll get to see the sweat and toil of the past 8+ months on the big screen in about two weeks. There's a lot of great work to see.
Siggraph is coming up in several weeks, from August 11th to the 15th, right here in Los Angeles. I'm still expecting to show up and hang out at the booth, at least once during the exhibit hall period, see some familiar faces, and meet new ones. Digital Domain has got some great presentations planned covering the past couple of shows we've done since the last Siggraph. I am still not confirmed completely on my next show, so I won't mention anything just yet. It does, however, possibly give me the chance to complete three shows this year. Last year I completed four, two of which were pretty short, The Dark Is Rising and Golden Compass.
Over the weekend I took in the new Hellboy film, and I thought it was excellent. The Golden Army was badass, and the characters and sets of this Guillermo film were quite good. The only thing that didn't really fly for me was the first 10 minutes, of an adolescent Hellboy. I could have used a different introduction to the creation of the Golden Army. DNeg did a sweet job on all the effects, I can't complain. They do some wicked work these days. Hellboy II, The Dark Knight, Harry Potter, Casino Royale, Children of Men. If you haven't seen Hellboy II and are a fan of the first one, I definitely recommend this one.
The Dark Knight came out this weekend as well, which I haven't got a chance to see yet. I'm sure it'll do great! I'll probably catch it next weekend.