Crossing the Finish Line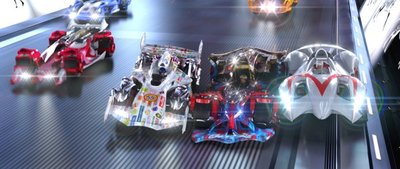 A Friday update! It's been a little while since I had a chance to share what I've been doing, and for good reason. We've been finishing up Speed Racer these last couple of weeks, and it's been a hectic push to the finish line. Now that we've crossed it, I'm back onto The Mummy 3, which is set to release in theaters on August 1st! I'll let the audience do the math on that. There looks to be lots of great work in it, which I can't wait to start on.
I only completed about five shots for Speed Racer, all of which take place at the end of the movie. It looks to be an exciting visual ride! There are a couple stragglers just finishing up bits and pieces, but we're pretty much done. To keep you satiated until the release of the movie, here's an interview with Owen Paterson, Production Designer for the movie.
Owen Paterson designed the bleak cityscapes of the Matrix movies and V For Vendetta, and now he's creating the candy-colored neopolises of Speed Racer. Not to mention concept cars with wheels that can turn a full 180 degrees. We tracked him down in Sydney, Australia and asked him about the visual influences behind Cosmopolis, the city where Speed races, and the cars which Speed and his opponents drive. Along the way, he dropped a surprising amount of backstory about the alternate world of the Wachowski's Speed Racer, coming in May.