New VES Goodies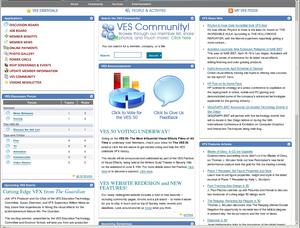 Oooo.. So I get back from lunch today, and I see a new email from the VES, our quarterly newsletter called Visions. In it are the basics, what the VES is planning for this year, the 2007 VES Festival, and a couple nice updates. They include a fancy new VES members layout, which I really quite like, and a discussion forum and improved job board!
I do hope that the discussion forums become a big hit. If you can't already tell by my contributions to the VFXtalk site, I like the nature of forums. It's a great way to share and spread knowledge, as well as learn and network from your peers from around the world. It makes the community even smaller than it currently is! And you can lurk or contribute at will. Of course, you can also ignore it whenever you want.
Another perk, I guess you could say, is the inclusion of the VES into the Below The Line (BTL) screenings, of which there are more than 80 a year, as well as a Q&A after the screening with some of the below the line people involved in the production.
In an energized atmosphere, Below the Line gathers key department heads from the crew responsible for the film. After viewing the finished movie, imagine a roundtable where you have a seat. Filmmakers interact with each other and with you, their peers.