VFX in Vancouver
As many of you are aware, Vancouver is having a wonderful boom for VFX jobs. This benefit is three-fold. Companies get cheaper labor (theoretically), artists get cooler films to work on, and students get a foot in the door. However, the reality is anything but.
I love Vancouver. I lived up there for six years, and I felt at home. Great weather (aside from the rain), easy access to outdoor amenities, and it was just a really great place for an international city that is still in North America, and easily accessible by Californian VFX artists. Making a decision to move up north is not a small feat, especially in this rough and tumble world of the quick buck, cheap labor, and inadequate contracts. Here's one reason to think twice.
Demographia, a property-affordability survey published by Illinois-based consultant Wendell Cox, estimates that median real-estate prices in Vancouver are 9.5 times median household income. Only Hong Kong and Sydney are less affordable by that measure. (New York comes in at 5.1.)
Insane. The source for this is the NY Times,
link located here
. Why is this important? Well, thinking of where to live, and how much it will cost can significantly impact your quality of life. For families, it can be very tough to up and move, even to someplace within a couple hours flight.
The Canadian Real Estate Association says the average house price in Canada in April was C$372,544, up 8% from last year. In Vancouver, it was more than twice that, at C$815,252, up 21% from a year ago.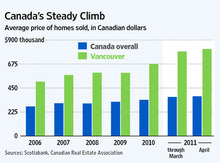 An average house in Vancouver cost 815 grand! Why should this even affect you if you're only renting up there? Well, you'd definitely need more than one roommate, and for families, that's a no go. This also affects the low end of the market, as many of the young people, the people that are tech savvy, the ones that these companies are trying to recruit to work on their popular VFX films, are heading to greener pastures where it is more affordable to live. You're not going to want to live in Surrey and commute at least an hour in traffic to downtown Vancouver to work long hours. You'll want to live in Yaletown, maybe Arbutus, South Granville, or maybe Kits and West End. The majority of the VFX studios are in South Granville, Fairview, Downtown, and Mt Pleasant. Subsidies only help the companies, they don't really help the artists. Sure you can ask for more money, but will a company want a student asking $40 an hour, or a seasoned professional asking $60? Mind you, the overtime laws in BC are very different from California, so if you're banking on getting time and a half and double time in the crunch, good luck if it's not written into your contract!
Companies are getting the itch to open up facilities up north, but often don't realize that it's not just about having a northern satellite office to get the vfx work, it's also about getting artists to fill those spots. Not just any artists, but seasoned professionals, most of which are not in BC and may not want to move for something that may not be permanent. All the seasoned artists in Vancouver are already at facilities of their choice which have been around for a decade already! Would you make the jump from a boutique in Vancouver to Sony Vancouver, DD Vancouver, or Scanline Vancouver? Especially if you've got an established team and repertoire with your crew at your boutique? If artists in Los Angeles can't or won't make the jump to Vancouver, do these companies really think they can find the quantity of people up north with the same experience? Time will tell. BC labor law also requires a certain major percentage of Canadian employees in a company, and if the majority of the talent come from outside Canada, will this even work? Time will tell.. London did it, and is doing amazingly well at this time.
Far more insidious is the impact housing unaffordability is having on employers and the broader economy.




You hear stories of smart, young people leaving for jobs elsewhere. At the same time smart, young people from elsewhere aren't coming here for jobs. The price of real estate and cost of living are too high, while pay is simply too low relative to other parts of the country.

Business in Vancouver

, a local newsweekly, delves into the dilemma in its latest issue with the story "

Home truths hurt talent search

."