June 2009 Archives
Hello kind readers! The last couple weeks have been pretty hectic, finishing up that giant robot movie and other miscellaneous items! I'm taking a long break away from Digital Domain for the summer, and hope to jump back in early August. The downtime will allow me to finish up a bunch of projects, and then start on new ones.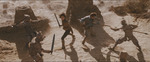 I mentioned earlier that I'm cutting a HD demo reel, of all my stuff up to this date, except for the films of this year, unless I can get them on DVD. Click the image to the right to see the full frame screen capture from the film. The majority of my film work has appeared on BluRay, and viewing it at that high resolution does remind me of how much work it took to get those images up there! While I was reviewing the work on The Mummy, I found that I was not quite happy with the quality of the BluRay. It seemed visually more compressed, but still significantly better than a standard DVD. The BluRay version is 1080p, or so they say. Many of the motion artifacts are apparent in the motion blurred sequences, while matte paintings and full face character work was way more detailed. I will most likely downconvert all my stuff to 720p anyway. The difference to the general public is negligible. The next question you might have is, will I send the BluRay version to companies looking for work? Maybe.. I most likely will cut two, a standard DVD and a BluRay with behind the scenes and other items. Maybe a voice over or a how-to.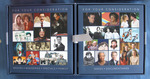 Over the past couple of weeks I've been receiving a plethora of Emmy Voting stuff, of which I have taken pictures! From Battlestar Galactica and HBO, to Showtime and A&E. History Channel has some good discs. This year the Academy is putting a lot of footage online for members to watch, and individual networks are doing the same. This year again, Showtime is putting all their series up for viewing by members. But what about my group, SVE (Special Visual Effects)? We vote for the nominees in about two
weeks! Unfortunately I won't be able to vote this year, but check out my previous entries on how it all went down to get a feel for it.



In a couple weeks we'll be headed up to Vancouver, to see the city, friends, and generally, do some more hanging out. When we come back to Los Angeles, there'll be more hanging out, as well as more venture capital work. I'm still preparing a proposal for several VCs in the Bay area, and there is a local gathering of entrepreneurs and angel investors every month or so, and I hope to pitch the company to them. It's still a lot of work, but I'm up to it, and there's only glory at the end.



With all these free time, I've been hitting the gym more regularly, back to my routine four day split. Legs, chest, arms and shoulders, and then accessory work. It's been good so far, and back to squatting 295x5 again after a week off. And then there's that stupid X360 game, COD4: Modern Warfare, which I've been spending lots and lots and lots of time online in the multiplayer rooms playing Team Deathmatch with my brother and pals. I think a day last week we played for six hours and won 19 games straight. I think there was a preteen on there that said I needed to get a life.. Little does he know.